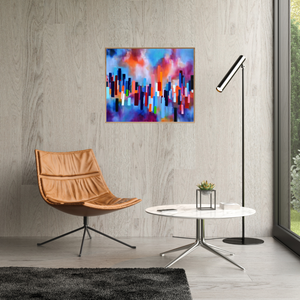 "Create a colourful life"
Everyone should have access to art, you are unique and you should be able to express yourself with bright pieces that capture your eyes and maybe even a little bit of your soul.
Have you had that feeling of standing in front of an original painting and it been like music for the eyes? it has hidden layers, high notes and low tones. Perhaps it captures an exact feeling or a memory that transports you to a happy moment shared with a loved one. Maybe it's a feeling that is a little more complex to unpack, as the journey of self-discovery, perhaps it draws you in and connects on a deeper level than words simply can express.
Explore artwork in a range of styles and mediums from an independent artist. Affordable art to add colour to your space.
Artwork as unique as you.
High Quality Clothes
Explore our range of high quality T-shirts and Hoodies with one of a kind designs and artwork.
Shop New Arrivals
Get the latest artworks, from a unique ink creation to a large canvas painting in oil or acrylic paint.
Notecards
Let someone know that you are thinking of them by sending a notecard. Shop our exclusive collection of blank notecards here.
Follow Instagram || @katyhandsart